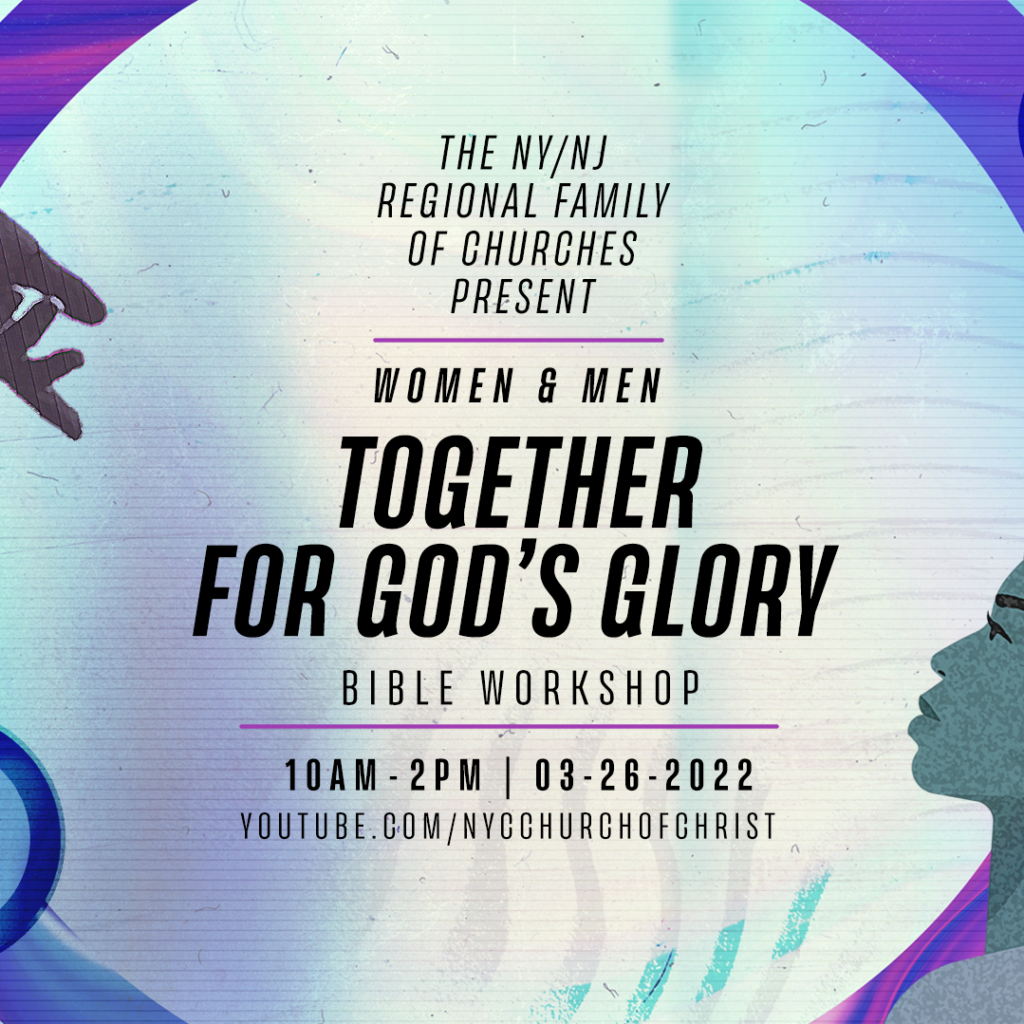 Women & Men: Together for God's Glory
WHEN? March 26, 2022, 10am-2pm
---
Join us for an online workshop as we dive deep into the Scriptures with our brothers and sister throughout New York and New Jersey. We will take a closer look at Biblical roles and responsibilities for men and women within God's Church. We will address traditions, clarify misconceptions, and set a clear direction for the future of our NY/NJ family of churches. Everyone is welcome!
This workshop will consist of four pre-recorded videos to premiere on the NYCCOC YouYube Channel. Beginning at 10am, the sessions will start each hour, on the hour: 10am, 11am, noon, and 1pm. The entire workshop will end at approximately 2pm. Each session will be less than an hour to provide a short break between session.
MUJERES Y HOMBRES:
JUNTOS PARA LA GLORIA DE DIOS

¿CUÁNDO? 26 de marzo del 2022, de 10:00am a 2:00pm

Únanse a nosotros para un taller en línea para sumergirnos profundamente en las Escrituras con nuestros hermanos y hermanas de Nueva York y Nueva Jersey. Veremos más de cerca las funciones y responsabilidades bíblicas de los hombres y las mujeres dentro de la Iglesia de Dios.

Abordaremos las tradiciones, aclararemos conceptos erróneos y estableceremos una dirección clara para el futuro de nuestra familia de iglesias de NY/NJ. ¡Todos están bienvenidos!

Este taller constará de cuatro videos pregrabados que se estrenarán en el canal YouTube de NYCCOC. Comenzando a las 10:00am , las sesiones comenzarán cada hora, a la hora: 10:00am, 11:00am, 12:00pm y 1:00pm. El taller terminará aproximadamente a las 2:00pm. Cada sesión será de menos de una hora para proporcionar un breve descanso entre sesiones.