Upcoming
What's New?
June

2019

Sun
Mon
Tue
Wed
Thu
Fri
Sat

2

Worship Service

Churchwide Spanish-Speaking Service

• •

5

CANCELLED Midweek Service [+Dads]

•

9

Special Contribution Sunday

Worship Service

• •

12

CANCELLED Midweek Service [+Moms]

•

29

EDGE Ministry Devotional (Singles Ministry)

•
Subscribe to this Regional Calendar
The Manhattan region of the NYC Church of Christ (or 'Big Apple Church')  is as diverse as the island itself.  Artists, bankers, teachers, parents, singles and all ages, colors, shapes and sizes…this mixed bag of Christians love God, the Bible and the Big Apple!   Check out one of our many small groups that meet everywhere from Soho to the Heights.
---
Recent Facebook Posts
Audio
Listen
Be Rich | p6 Share

John Markowski

June 23, 2019

Be Rich | p5 Foundation

Al Baker

Nate Baker

June 16, 2019

Be Rich | p4 Truly Life

Marc Thompson

June 9, 2019

Be Rich | p3 Lay Up

John Markowski

June 2, 2019
Regional Leadership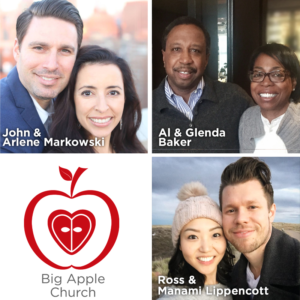 Manhattan Leadership
John and Arlene Markowski serve as Evangelist and Women's Ministry Leader for the Manhattan Region of the New York City Church of Christ, aka the Big Apple Church. They became Christians at the University of Southern California, went into the full time ministry, fell in love and were married in 2001. They moved to New York City in 2010 with their two kids. Elder couple Al and Glenda Baker became Christians in California, having been married over 30 years are empty-nesters now and work in Corporate Finance and Counseling respectively. Ross and Manami Lippencott were married in 2013, have 2 children, and serve as the Congregational Youth and Family Ministry Leaders, Congregational Worship Leaders, and the director of our annual summer Teen Camp. In 2019, they moved to Manhattan to lead the Daytime Arts Ministry. You can email the team at [email protected]