Hudson Valley
Sunday & Midweek Worship Details
In response to the current pandemic, the NYC Church of Christ has suspended all of our regularly-scheduled Sunday and Midweek Services until further notice. Find Sunday Service on Church Online!

Please contact your local regional leadership for specifics about your area.
Upcoming
What's New?
March

2020

Sun
Mon
Tue
Wed
Thu
Fri
Sat

7

Teen Solid Rock

ALL NY TEEN SOLID ROCK

• •

8

HVC Life Group Week

Hudson Valley Church Service

• •
Subscribe to this Regional Calendar
The Hudson Valley Church is the NYC Church of Christ in New York's Rockland and Orange Counties. Click here to sign-up for or just read our most recent Weekly eBulletins. They are emailed every week. Also visit ServingHudsonValley.com to find a list of service events scheduled as HOPE worldwide New York Metro volunteers.
---
Recent Facebook Posts
Audio
Listen
Emotional Development series:Anger,Rage, and Wrath

Zaid Muhammad

March 28, 2020

Discipleship in Action

Phil Garrison

March 8, 2020

Disciple of Jesus: Love God With All Your Mind

Dr. Ryan Erbe

March 1, 2020

Disciple Of Jesus: Love God with all your soul

Dr. Ryan Erbe

February 23, 2020
Regional Leadership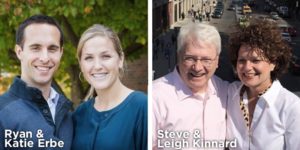 Hudson Valley Leadership
Dr. Ryan and Katie Erbe serve as the Region Leaders for the Hudson Valley. Ryan has a PhD in Health Behavior and Human Development from Indiana University. Katie is a Duke University graduate and a women's lacrosse World Cup champion. They've been married since 2012 and have three daughters. Dr. Steve and Leigh Kinnard also serve in the full-time ministry in Hudson Valley. They have been married for over 30 years and have two children. Steve is also a Congregational Teacher and oversees the NYCCOC Ministry Training Academy. Questions? Please email [email protected]