Transparency
No one lights a lamp and puts it under a basket, but rather on a lampstand, and it gives light for all who are in the house. In the same way, let your light shine before others, so that they may see your good works and give glory to your Father in heaven.

Matthew 5:15-16 (CSB)
The New York City Church of Christ is committed to transparency in its financial operations. This page has information on prior year's financials and independent audits, the current year's budget, the Board of Trustees, and frequently asked questions.
Full Past Financials and Audit Reports:
Each year, the Church undergoes an audit by an independent accounting firm to verify its financial practices and books.
2022 Budget: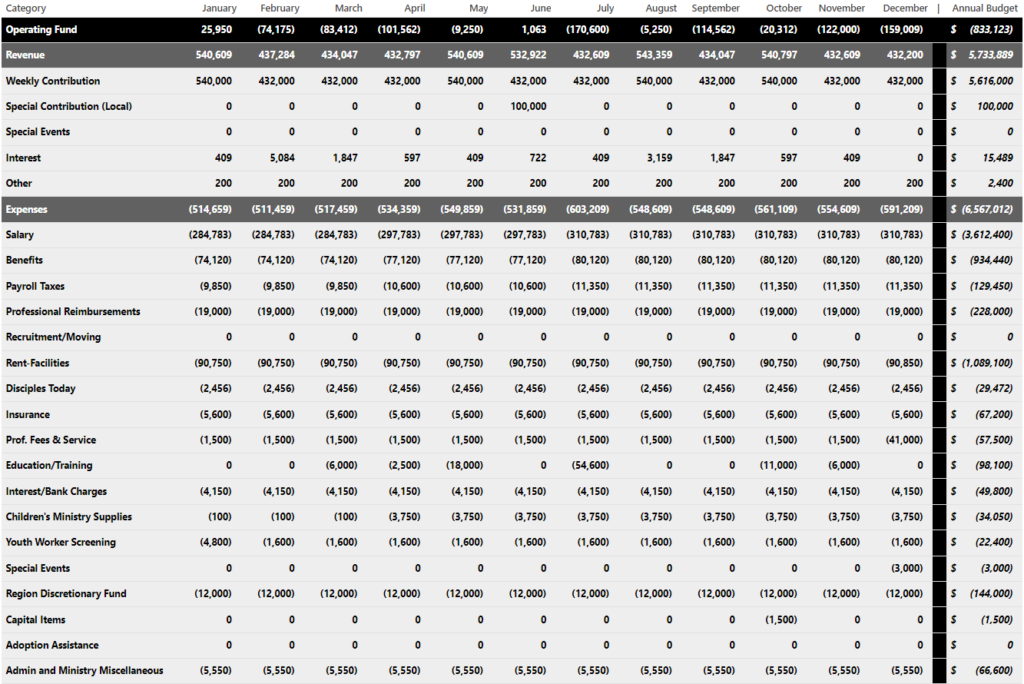 Insurance – Many of the church's rental facilities require that the church has ongoing liability insurance to be able to meet there, and this money protects the church and staff while performing the work of the ministry.
Professional Fees & Service – This includes legal consulting, our independent audit, and accounting and IT contract work.
Education/Training – This includes paying for staff to attend conferences and training that are required as a part of their role and retreats for spiritual edification and unity among ministers. Additionally, a large number of church employees and volunteers serve on various ICOC Service teams (Elders, Teachers, Campus, Youth and Family, Singles, Administration), and this budget line includes costs for those meetings to build the worldwide family of churches.
Admin and Ministry Miscellaneous – This include printing, postage, utilities, software for the church website and online platforms, administrative/finance software, and other all-Church ministry costs.
Region Discretionary Fund – This fund allows each region to be able to meet direct ministry costs, such as evangelistic events, visiting speakers, additional rentals outside of Sunday service and midweek, and items like sound equipment and communication software. It is split between regions and ministries based on size.
The current Board of Trustees:
Alfred Baker, President
Larry Craig, Vice President
Kevin Finnerty
Dr. Nnenna Franciamore
Dr. Adewale Omoloju
Frequently Asked Questions:
How is our budget determined?
The budget preparation is a four step process. The church's needs and future programs are first assessed by the ministry staff and advisors, in October. The chief financial officer reviews their input and needs, determines the costs, and prepares the budget. The elders review the preliminary budget and make final decisions on spending. The final budget is reviewed and adopted by the church board in December.
What does "consolidated budget" mean?
We operate under a "one pot" system as we see all of the church as one family. The total costs of operating the church are figured collectively from the current ten regions, including ministry salaries, rents, etc. In addition, there are some administrative costs associated with our church office and the necessary administrative staff required for a church our size.
How are salaries and benefits determined?
Starting in 2004, the church initiated a formal compensation committee (consisting of volunteer, non-staff disciples who each had extensive human resource and business related experience) and hired the Hay Group (now Korn Ferry, one of the largest human resources management consulting firms and experts in compensation) to study our salaries and make recommendations. Input was sought from representatives from each region of the church. Based on this research and review, the committee formulated a uniform salary model that was subsequently reviewed and approved by the elders and board of trustees. This model was again reviewed by a full compensation committee in 2015 and works by assigning a salary range based on job responsibilities that is then modified by years of experience of the staff member with a small adjustment based on region of work. Therefore, each employee is paid based on the responsibilities of their role and their related experience, not on personal judgement calls. Each year, the church gets updates to the model from Korn Ferry and the elders and board determine if they can apply market-based updates from Korn Ferry to the whole staff based on the budget. No ministry personnel negotiate or are involved in the determination of salaries. Our church employees also receive health benefits, entry into a 403(b) retirement plan, and professional reimbursement for accountable ministry expenses.
Why do we sometimes have a deficit budget?
While our goal is a balanced budget, where expenses do not exceed revenue, we believe that we cannot accomplish our goals in some years without possibly spending more that we give. How can we do this? We do have some cash reserve to cover our deficit. Obviously we cannot operate indefinitely with our spending being more than our contributions. We do try to keep a cash reserve sufficient to cover about three months expenses should we face some catastrophe. It is also our prayer that our weekly giving exceeds our expectations, wiping out the projected deficit.
Why is a cash reserve, or "savings," important?
This is called "working capital." We want to be able to pay our bills in advance or on time, without having to live from week to week, contribution to contribution. Having a cash reserve also helps us negotiate better rental arrangements for our facilities and special events. In these uncertain economic times we also want to make sure we are prepared for unexpected emergencies.
How do we account for weekly contribution?
Weekly contribution is independently counted, deposited, and reported by trained count teams. (No ministry staff is ever involved in the collection or counting of monies.) The church office verifies all reported contribution with the bank deposits. The contribution is reported to the region leaders, elders, and board members weekly, both the combined amount given by all the regions and the amount given in each individual region.
What happens to our "offering for the poor"?
Our poor offering goes for HOPE and benevolence. Our fellowship of churches has agreed to support HOPE Worldwide at a rate of $52/member each year. A portion of our poor offering goes toward that commitment. The rest is made up by the International Day of Giving each fall. Additional poor offering funds are used for benevolent needs both locally, within our congregation, and sometimes internationally, such as when there is a disaster or special need somewhere. None of our offering for the poor funds go toward the general operating expenses of the church.
How is spending controlled?
Our chief financial officer and/or our controller have to approve spending specific to each region, such as rental contracts. No region can hire staff without the approval of the elders. The use of each region's discretionary funds also has to be approved. Regular financial reports are given to the region leaders, elders, and board members.
Is the church regularly audited?
Yes, our audit firm for the last several years has been EisnerAmper LLP, the tenth largest CPA firm in New York City, ranked sixteenth in the nation. This annual audit is not required by law, and few churches have regular external audits. We, however, have had outside audits from major CPA firms for more than twenty years, all with clean opinions.
What does the board do?
The elders and evangelists of the church have the biblical role of spiritual and ecclesiastical leadership of the church. As a non-profit organization, recognized as such by the Internal Revenue Service, we are required to have a board of trustees. That board has the responsibility of overseeing major policy and financial decisions, and setting clear boundaries and internal controls for church management, particularly from a financial standpoint. The board meets quarterly, with additional meetings as necessary.
Are we in a position to purchase property?
The New York City Church of Christ currently owns no property. There are two main reasons for that. First, the changing nature of our ministries and regions makes owning buildings impractical. Second, the costs are prohibitive. The down payment required for any region to buy a building would deplete our cash reserves. Monthly mortgage payments and building maintenance costs would generally far exceed the current amounts any region pays for rental facilities.
What if I have more questions?
If you have any additional questions, please reach out to [email protected] to reach the Board or [email protected] for Robert "Bobby" Ritter, CFO, who also serves as the Secretary and Treasurer for the Board.