City Campus
Sunday & Midweek Worship Details
11:00am
Worship Service: Sunday @ E-Village Space (91 East 3rd St. New York)
10:30 - Coffee & Connection before Service.
*Check calendar, some dates may vary

Midweek Connection: Every other Wednesday, 7pm on Zoom, check Calendar.

Fellowship Night: Friday, 7p for a fun time throughout the city.
See Calendar for details!

Personal Bible studies available & public Group Discussions at
NYU, City College, Lehman and Queens College!

DM us through IG or Email [email protected] for any info and get connected!
Audio
Listen
Preparing for Winter Break | Midweek

Caleb Brent

Julia Brent

December 6, 2023

1 John | Authentic Christianity | The One Who God Loves

Rob Novack

December 3, 2023

1 John 2:3-17 | Knowing God

Caleb Brent

November 19, 2023

1 John 1-2:2 | Authentic Christianity | Walk in the Light

Rob Novack

November 12, 2023
Regional Leadership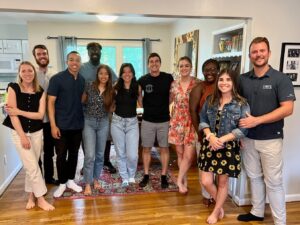 City Campus Leadership
Rob and Chelsea Novack serve as Evangelist and Women's Ministry leader for the NYC Campus Ministry. They've been married since 2013 and have two boys. Marc and Hannah Persing married in 2020 and serve as Campus Ministers, along with Caleb and Julia Brent (NYU, Stony Brook). Our inspiring leadership team also consists of Gigi Lozano (Manhattan College) and Nick Perla (Lehman)! You can email us at [email protected]