City Campus
Sunday & Midweek Worship Details
Worship Service: Every Sunday at 11am (Pearl Studios, 500 8th Avenue, 3rd Fl)
Midweek Service: Every Wednesday at 7:30p on zoom (ID: 97644747253)
Friday Night Live: Every Friday at 7p for a fun time throughout the city.
See Calendar below for details!

Group Bible Discussions on Campus and Personal Bible studies also available.
Email [email protected] for any info and get connected!
Upcoming
What's New?
May

2022

Sun
Mon
Tue
Wed
Thu
Fri
Sat

7

SOLID ROCK // TEEN DEVOTIONAL

•

8

Join Local Region for Mother's Day

•

20

Brant Park Maker's Market

•
The City Campus Region (Alpha Omega NYC, AONYC) is a vibrant, diverse group of college students and young adults from across the boroughs focused on following Jesus; being with him, becoming like him and doing what he did to build the future to be bright in this great city!
REGISTER FOR ICMC in ORLANDO! campusretreat.org
Subscribe to this Regional Calendar
Audio
Listen
Mark 13 | Two Questions That Will Change Your World

John Rotio

April 6, 2022

Mark 12:1-17 | Giving to God What is God's

Marc Persing

March 27, 2022

The Biblical Church Pt3 | Our History & Being the Church for the Future

Marc Persing

March 23, 2022

Mark 12:28-34 | The Greatest Commandment

Sam Powell

March 20, 2022
Regional Leadership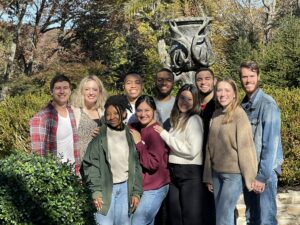 City Campus Leadership
Rob and Chelsea Novack serve as Evangelist and Women's Ministry leader for the City Campus Region, and all Campus Ministry in NY&NJ. They've been married since 2013 and have two boys. Marc (William Paterson) and Hannah Persing (Seton Hall) married in 2020 and serve as Campus Ministers. Our inspiring core leadership team consists of Caleb Brent (NYU), Manny (Stevens IT) and Rachel Coronado (Queens College) who were married in 2022, Gigi Lozano (Manhattan College), and Ricky Rogers (CSI)! You can email us at [email protected]