Westchester
Sunday & Midweek Worship Details
Sundays at 10am
Manhattanville College
O'Byrne Chapel
2900 Purchase Street
Purchase, NY 10577
Map It
Upcoming
What's New?
March

2018

Sun
Mon
Tue
Wed
Thu
Fri
Sat

25

Westchester Sunday Service "Triumphant Life"

•

27

Westchester Midweek - Women

•
Subscribe to this Regional Calendar
We are the NYC Church of Christ in New York's Westchester county.
---
Recent Facebook Posts
Audio
Listen
Godly Homes

March 18, 2018

Life to the Full

Jim Brown

March 11, 2018

Alive By Faith

Jim Brown

March 4, 2018

The Power of an Indesctructible Life

Robert Brace

February 25, 2018
Regional Leadership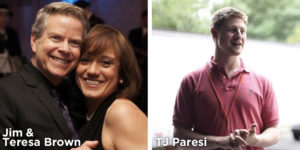 Westchester Leadership
Jim and Teresa Brown serve as Evangelist and Women's Ministry Leader for the Westchester Region of the New York City Church of Christ. They have been leading in the ministry in New York since the 1980's. Jim became a Christian as a campus student and Teresa became a Christian through the 'Daytime' ministry in Manhattan. They have been married for over 20 years and have two children. TJ Paresi went into the full-time ministry in 2012 and leads Westchester's Campus and Youth and Family ministries. You can email Jim at jasbrown@mac.com.