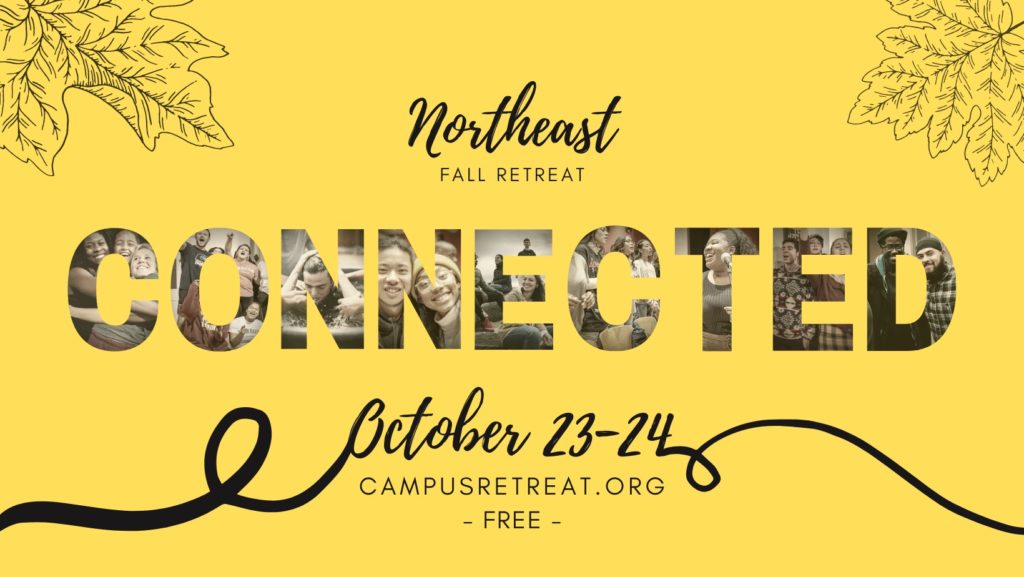 ---
FRIDAY, October 23

Opening Session: 8pm
https://zoom.us/j/99668979759
Password: Connected
ID: 91900197851
*Optional Speed Fellowship to follow
---
---
SATURDAY, October 24
Morning Session – 10am
https://zoom.us/j/97986798214
Password: Connected
ID: 97986798214
Since there is only one planned session Saturday, we have a few ides to help you get CONNECTED and have a great retreat weekend.

1. Connect with God. Plan time on Saturday have a special time to connect with God. Spend extra time in the Word, go on a long prayer walk, have your Quiet Time in a new place.
2. Connect with God's People. Plan some way on Saturday to connect in a special way with other disciples. Have a QT together, pray together, go on a date, hang out – and consider joining one of our HOBBY CONNECT activities!
Hobby Connect
*Opportunities to connect over similar interests from others around the Northeast.
Movie Night (8-10 pm) – Hosted by Jessica Almiron They will open the zoom link from 7:45-8:30. In the zoom chat, she will send the netflix party link.
Game Club (7-9 pm) – Hosted by Lucas & Omar
Dance Class (6-7 pm) – Hosted by Kennedy RoyalOpen to all skill levels – expect a good workout and to learn some new moves!