New Jersey
Sunday & Midweek Worship Details
Sunday at 10am
Clifton High School
333 Colfax Ave
Clifton, NJ 07013
Map It
Midweek
See calendar below.
Upcoming
What's New?
April

2017

Sun
Mon
Tue
Wed
Thu
Fri
Sat

21

Youth and Family Devotional

•
Subscribe to this Regional Calendar
We are the NYC Church of Christ in the northern counties of New Jersey.

---
Recent Facebook Posts
Audio
Listen
Acts 22:30-25:22 – Facing Trials With Faith in Jesus' Authority – NJ Campus Midweek

Daniel Kinnard

April 19, 2017

Acts 21:17-22:29 – Stand Up for Truth – NJ Campus Midweek

Charles Delvalle

Marc Persing

April 12, 2017

Romans 9-10

steve kinnard

April 8, 2017

Acts 21:1-16 – Christ Centered Focus & Drive (MEN) – NJ Campus Midweek

JD Brown

Manny Coronado

April 5, 2017
Regional Leadership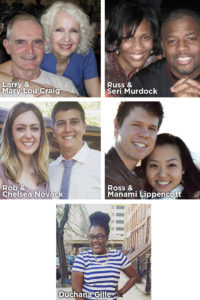 New Jersey Leadership
Larry and Mary Lou Craig serve as Evangelist and Women's Ministry Leader for the New Jersey Region of the New York City Church of Christ. After serving congregations in South Carolina and Texas, they moved back to NY in 2004 to again work with the NYC church, where Larry also serves now as an elder. They have been married almost 50 years, have 3 children, and 9 grandchildren. Russ and Seri Murdock have been married for over 20 years, have two children, and lead the Married's Ministry in NJ. The Murdocks also direct the church's annual summer Preteen/Young Teen Camp. Rob and Chelsea Novack were married in 2013, just had their first child, and serve as the Congregational Campus Ministry Leaders. Ross and Minami Lippencott were married in 2013, just had their first child, and serve as the Congregational Youth and Family Ministry Leaders, Congregational Worship Leaders, and the director of our annual summer Teen Camp. Duchana Gille grew up on the Jersey Shore and graduated from Montclair State University with a degree in Biology. She has been co-leading the New Jersey Campus women since 2015. You can email Larry at larrywcraig@gmail.com.