Brooklyn
Sunday & Midweek Worship Details
11:00 AM
88 Hanson Pl
Brooklyn, NY 11217
(At South Portland Ave)
Map It
Midweek Services
locations and times vary
(see our regional calendar)
Upcoming
What's New?
November

2017

Sun
Mon
Tue
Wed
Thu
Fri
Sat

1

Brooklyn Region Midweek - MEN

•

5

Brooklyn Worship - SMALL GROUPS

•

8

Brooklyn Region Midweek - WOMEN

•

18

EDGE Congregational Devotional

•

29

Brooklyn Region Midweek - SMALL GROUPS

•
We are the NYC Church of Christ in the borough of Brooklyn.

Podcasts | eBulletins | Download our Fall 2017 Calendar
---
Recent Facebook Posts
Audio
Listen
Youth & Family Sunday

Ashton Cooper

Dexter Wilson

Joe Arroyo

Keisha Wilson

November 19, 2017

Tale of Two Boats

Stephen Oguagha

November 12, 2017

A Faith that Moves

Stephen Oguagha

October 29, 2017

Not of Natural Descent

Phil Garrison

October 22, 2017
Regional Leadership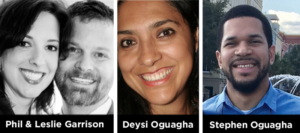 Brooklyn Leadership
Phil and Leslie Garrison serve as Evangelist and Women's Ministry Leader for the Brooklyn Region of the New York City Church of Christ. They have been married for over twenty years and have one child. Deysi Oguagha has worked in ministries around the world including Kenya, Zimbabwe, South Africa, and Nigeria. She has three children. One of her sons, Stephen, serves as the Campus Minister for the Brooklyn Region. He and his wife, Hannah, have been married for four years and have a son. Email us at brooklyn@nyccoc.net.